UK Zambian Professional Network Presents:
The Benefits of Networking within the Zambian Community Event.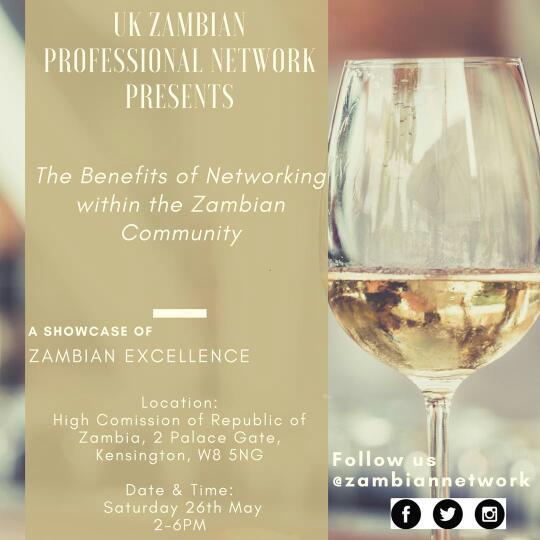 The UK Zambian Professional Network is a platform were Zambians or people of Zambian heritage can come together to establish a mutually beneficial relationship with each other in the UK as well as showcase Zambian Excellence.
TOPICS:
-How to run a successful business at 21 years old.
-How to have a strong social media presence.
-The benefits of networking within the Zambian community.
-How to climb the career ladder.
-How to create a profile on the Zambian Network Website.
-Discovering business opportunities in Zambia.
SPEAKERS:
Sean Wams Penza– Founder of UK Zambian Professionals Network & Zambian Network Website.
Rebecca Tembo– Business Owner at 21 years old
Raymond Pelekamoyo– Social Media King
Nchimunya Nelissa Tebequa– Young Zambian Student at Oxford University
Nothando Mpala-Founder of Naylo Events Management & Blogger
Anderson Banda– CoFounder of The Nxt Chapter & Project Manager
Osarobo Aigbedo– Busines Owner
WHAT TO EXPECT:
* Talented Speakers
* Interactive exercises & an opportunity to network
* Q&A Session
* Light Refreshments
DressCode: Smart/ Casual
Make sure you bring your business cards!!!